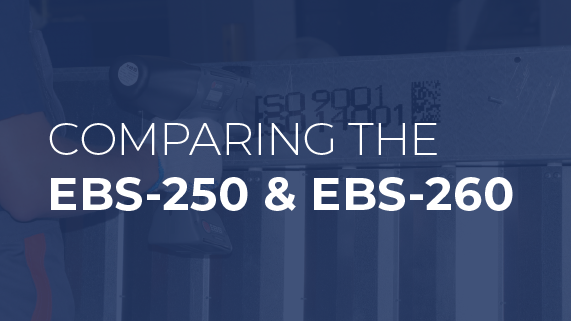 Comparing the EBS-250 & EBS-260
The EBS-250 was the first wireless inkjet printer released by EBS. Revolutionary for its portability and versatility, it was the first printer that could print anywhere. Recently, EBS released the 260 model, touted as an upgrade from the EBS-250. On a quick visual comparison, the EBS-260 catches the eye with its built-in touchscreen and sleek design, but how do the specs match up?
Specifications

Programming
The Bluetooth Module (included in any EBS-250 purchase) is required to transmit messages from the software on your PC to the EBS unit. If this module is damaged or goes missing, you'll need to get a replacement if you want to change the messages on your printer again.
In contrast, the EBS-260 is programmable in various ways: WiFi, USB, or touchscreen. The software that is used to program the EBS-260 remotely is web-based, which means it can be used from a PC as well as from an Android phone. From this software, uploading new messages to the machine happens over WiFi: no Bluetooth module required.
Alternatively, you may enter new messages by using the touchscreen built into the machine, which is excellent for printing on the fly. The touchscreen feature is worth elaborating upon because it is one of the critical ergonomic differences between the EBS-250 and EBS-260. The full-color LED touchscreen on the EBS-260 makes adding messages a natural process, wholly independent of a computer or smartphone. This process is a considerable improvement over the computer-reliant EBS-250.
Memory

There are two memory options available for the EBS-250: a ten message version and a 30 message version. Both versions have a 1500 character limit per message. If that feels a bit restricting, never fear. The EBS-260 addresses these concerns with a two-gigabyte internal memory that can store up to 50,000 unique messages. For good measure, each message has a 10,000 character limit, which is enough to print this entire article two times over!
Graphics

Text input on the EBS-250 software.
The EBS-250 uses a Windows-based program to format and transmit messages. This program is easy to use, and entering a new message is as simple as typing it out. Logos and graphics can be created manually in the bitmap editor. Since it may be challenging to recreate a logo freehand, you may want to create a drawing guide.
The web-based software for the EBS-260 allows you to upload graphics and logos. You can only upload EBS-ready artwork, which has stringent parameters in terms of file parameters. However, converting artwork for printing on the EBS-260 can be done quickly in Photoshop.
Printing
Both the EBS-250 and EBS-260 are monochrome printers that are programmed to print with only one type of ink. If you plan to use a different kind of ink, you must send it back to the manufacturer for reconfiguration. Though seemingly tedious, this practice keeps print quality high and prevents damage to the printer.
Since you are limited to one ink type per machine, it is essential to identify what you want in terms of color and solvent type of the ink you select. A solvent is the main chemical present in ink, and it determines how well the ink takes to certain surfaces.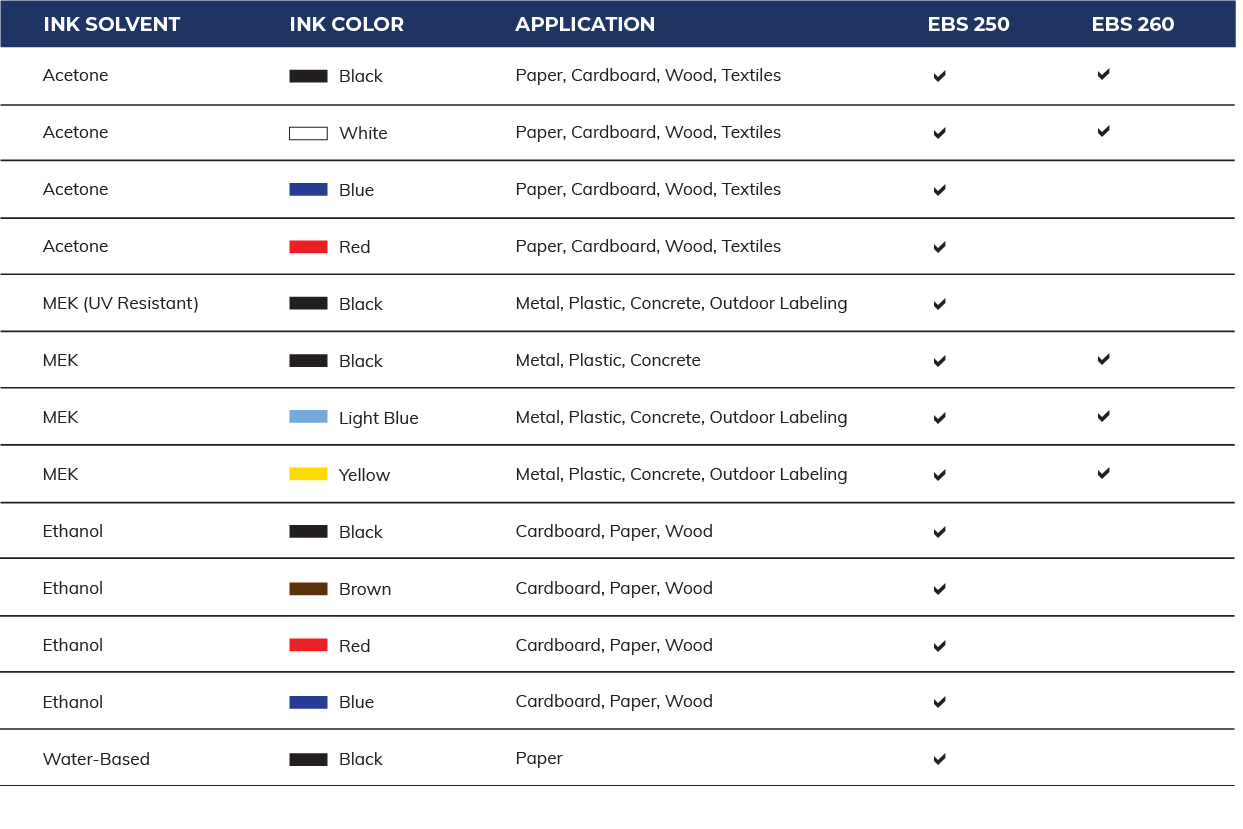 Because the EBS-250 has been around for much longer than its counterpart, it has specialized ink options that are not available for the EBS-260. One example is the UV-resistant black MEK ink, which was developed because black inks are prone to fading prematurely in the sun.
Though the EBS-260 has a limited selection of inks, its inks are among the most requested of the Handjet line, so you are sure to find one that is right for your application. Additionally, ink cartridges on the EBS-260 are a sizable 200ml, which means less maintenance and more printing.
Where the EBS 260 truly excels over the previous model is print quality. The printhead of the EBS-260 has 32 vertical nozzles, which means more detail for logos and graphics. It can print up to 2.2 inches high, double the amount of the EBS-250. For this reason, the EBS-260 is the best choice for printing logos, images, and up to five lines of text per stroke.
Portability
The EBS-250 and EBS-260 are both revolutionary in terms of portability: they were among the first handheld inkjet printers on the market. The most significant difference between the two is charging time and battery life.
The EBS-250 comes out far ahead in this category, capable of lasting up to 50 hours on a single charge. The EBS-260 can easily last through a long workday and then some, which isn't too shabby. In the end, neither model will disappoint in this department, but the EBS 250 has a little extra edge for fast-paced environments where a quick charge and lasting battery can make a big difference.
Price
We'll start with the older model, the EBS-250. In addition to the 30 message version which retails at $4,300, there is also a ten message version for $3,800, which is perfect for simple applications.
The EBS-260 retails for $5,500. Though it is more than one thousand dollars more than the next best model, it has many features and improvements which, depending on your application, may be well worth the extra cost.
Bottom Line
Both printers are a good value for the money, but the EBS-260's user-friendly design makes it much better for general usage in a wide variety of applications. The EBS-260 undoubtedly blazes a new trail with its built-in touchscreen, two gigabytes of memory, and 2.2" print height. The EBS-260 also comes in at a higher price point, but it's a big bang for your buck.
While the EBS-260 boasts many impressive features, the EBS-250 remains an impressive machine that is excellent for a variety of applications. It has 13 available ink types, almost triple the amount currently available for the EBS-260. Its battery lasts five times longer than the newer model, and it charges in half the time. It comes in at a significantly lower price point as well, which is a feature anyone can enjoy.
Want even more options? Check out our full selection of handheld portable inkjet printers.