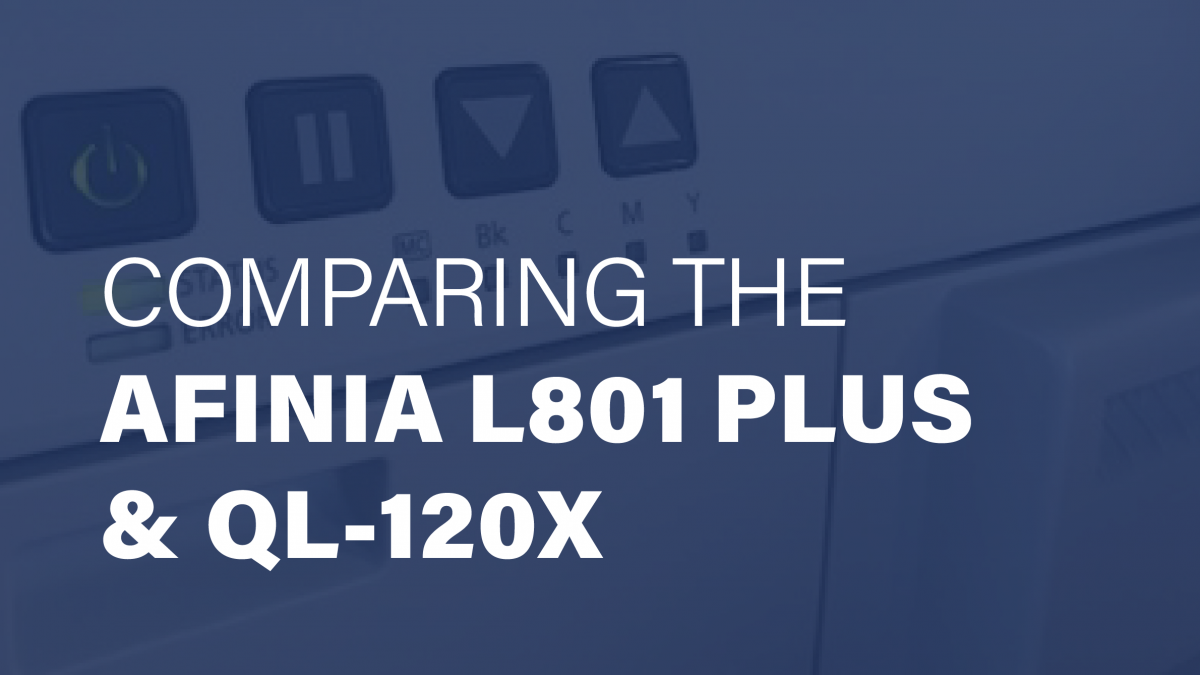 Comparing the Afinia L801 Plus and the QL-120X
Bring your Printing In-House
Outsourcing your color label printing can be expensive. With high order minimums and long lead times, sometimes it's best to bring your color label printing in house. If you're considering such a switch, a mid-range desktop printer is an excellent and flexible solution.
This article will compare two popular mid-range color label printers: the Afinia L801 Plus and the QL-120X. In most regards, the L801 is the higher-value solution for a wide range of applications. The Afinia L801 Plus is perfect for mid-to-high-volume production while the QL-120X is best for lower printing volumes.

Production Features
The Afinia L801 Plus is a high-performance printing powerhouse that fits on your desktop. The Memjet printhead provides industry-leading print speed and image quality at an affordable price point.  It works perfectly for mid-to-high-volume label production. With the optional unwinder & rewinder accessories, the L801 can also be used for continuous roll-to-roll label production.
The QL-120 can print on labels down to 0.5" wide, which makes it preferred for specialized applications. It also has optional unwinder & rewinder accessories, as well as an optional external control interface.
Printing
Resolution
With its 1600 dpi Memjet printhead, the Afinia L801 Plus is a top-of-the-line color printer, capable of printing crisp text and barcodes (down to 10 mil). By comparison, the QL-120X uses a 1200dpi printhead that features improved durability compared to the QL-120 model.
Inks
The Afinia L801 Plus uses Watershield Water-Resistant inks. These inks are more resistant to the effects moisture exposure than conventional dye-based inks. This makes the L801 Plus ideal for beverage labeling, food packaging, chemical labeling and pharmaceutical packaging.
The QL-120X uses dye-based inks that deliver a wide color range when used with Quicklabel-approved labels.
Price
When assessing the cost of printing, there are two major factors that must be considered: the printer and the ink.
Getting a printer in your door is the first step. The QL-120X costs $8,995, while the Afinia L701 clocks in at a comparable $8,495.
Once your printer is up and running, you'll need ink. Ink for the QL-120X comes in 240 ml cartridges and costs about $1.01/ml.
The Afinia L801 Plus features five ink slots, one each for Cyan, Magenta and Yellow ink cartridges and two for Black ink cartridges. The cartridges hold 250ml each and cost $0.84/ml, which adds up to huge savings in the long run.
Bottom Line
The Afinia L801 Plus is an excellent desktop label printer. It handles high volume production with ease, but it's flexible enough to print small batches of labels as needed. Its water-resistant dye inks are affordable, durable and vibrant. All and all, the Afinia L801 is ideal for small companies looking to bring their labeling in-house.
While similar to the Afinia L801 in terms of hardware specs, the QL-120X comes in at a higher price point, both in terms of initial investment and cost of consumables. It does, however, boast an impressive minimum label width of half an inch and a 2-year printer / printhead warranty.
If your still wondering what is out there or how to choose a printer and dispenser, take a look at all of the available label printers and dispensers.